HE Absolute King 王者风范 | 20 Sachets Per Box
Champion HE Absolute King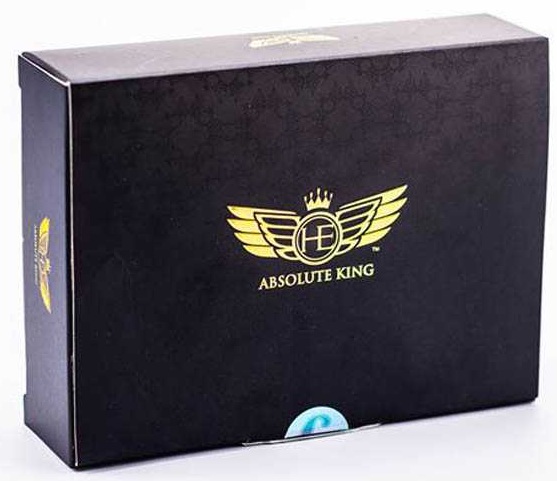 German developers did number of studies and come into the results that showing more than 15 kinds of trace elements like: flavonoids, glycosylated flavonoids, straight-chain organic acids, steroids, androgen, etc., are proved to be effective to promote cardiovascular circulatory system, without adding burder to the nerves, muscles and heart. These substances povide rapid supplements to the body's energy, endurance and stamina. With all these substances, Champion HE Absolute King is the best nutritional supplement for all sports enthusiasts.
Medical studies have proved that high levels of flavonoids and flavonoid glycosides can promote blood flow to the male reproductive organs, prompting cavernosum smooth muscle cells activated cyclic guanosine monophosphate CGMP, produce relaxation effect to increase blood flow, may promote normal organ function and improve sensitivity degree, improve health and promote marriage life better. Besides, the report shows the usage of Champion HE Absolute King improve health while bring no side effects for men.
Champion HE Absolute King uses the latest German extraction technology, a unique complex formula consists of three main natural ingredient silymarin, cynomorium, red Pueraria cream fermentation. These ingredient enhance the effect of Champion HE Absolute King so much, and they are easily absorbed by the human body.
Champion HE Absolute King consists of pure natural plant extracts, popular in Europe, one of the first successful men products! applied under the tongue absorption. Champion HE Absolute King dissolved in mouth under the tongue and hundreds of nutrients are absorb unconsciously. Effective after consumption of 2 to 5 sachets. Proved effective by number of users and 95% of them are satisfied with the result and return to get more.
The pressure from daily work life, tension lifestyle, lack of sleep, fatigue, radiation from electronic devices, have become the main reason of men's liver illness and prostatitis. For living and career, these pressure seems to be unavoidable. The aging of our body is inevitable. Just like our hair is growing grey, wrinkles on our skin, organ inside our body such as liver and prostate get old too. We need to figure out a way to adapt to the aging of our body.
Reference list for Physiological reaction and treatments after using Champion HE Absolute King :
1) Light Physiological Reactions~
Include: drowsiness, fatigue, stiff neck, diarrhea (soft stools, several times a day, diarrhea not accompanied with abdominal pain), mild itching, and more fart and so on.
2) Heavy Physiological Reactions~
Occur: headache, dizziness, fever, single sitting, eczema, joint pain, blood sugar, blood pressure, asthma, vomiting, loss of appetite and other symptoms.
Benefits of Champion HE Absolute King
Improve and protect liver cells
Increase male and female fertility and libido discharge.
Restore energy & enhance the immune system
Overcome the problem of bedwetting, difficult of urination, and frequent urination.
Improve prostatitis or improve urination Issues.
Improve man sexual function.
Reduce diabetes or reduce blood pressure or lowering cholesterol level
Stabilize the hormonal system
Overcome fatigue & lack of sleep
Ease women menstrual problem
Improve insomnia problem.
Anti-aging.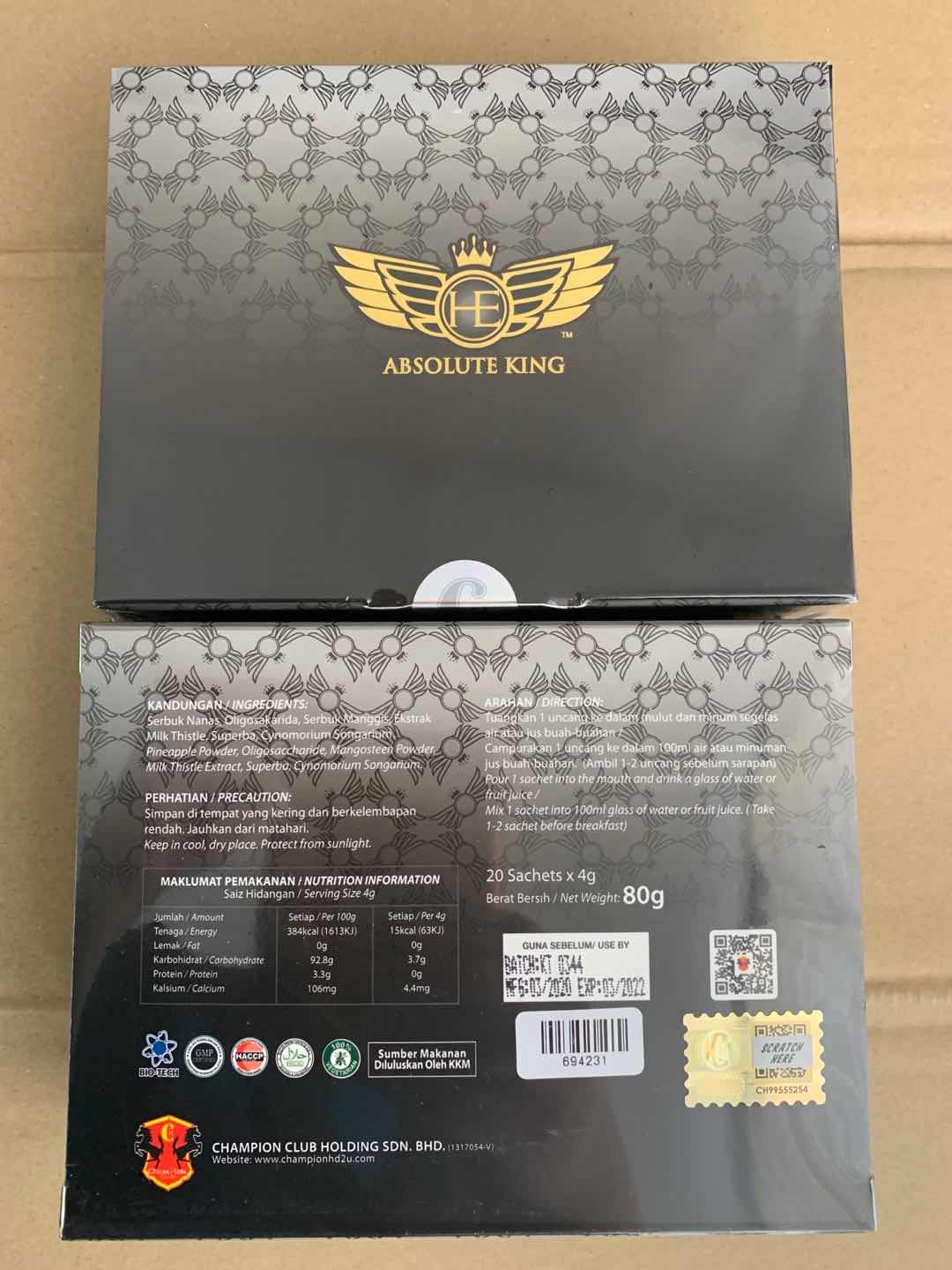 How To Use
1 pack per day, in the morning before meals is recommended for adults and athletes. K-II powder is poured into the top of the tongue, let it be dissolved and absorbed.
If you find no suitable method above, you can mix the powder with water.
NEW PACKAGING
Please Contact for order 预订购请联系
马来西亚联络号:
+6012-6262122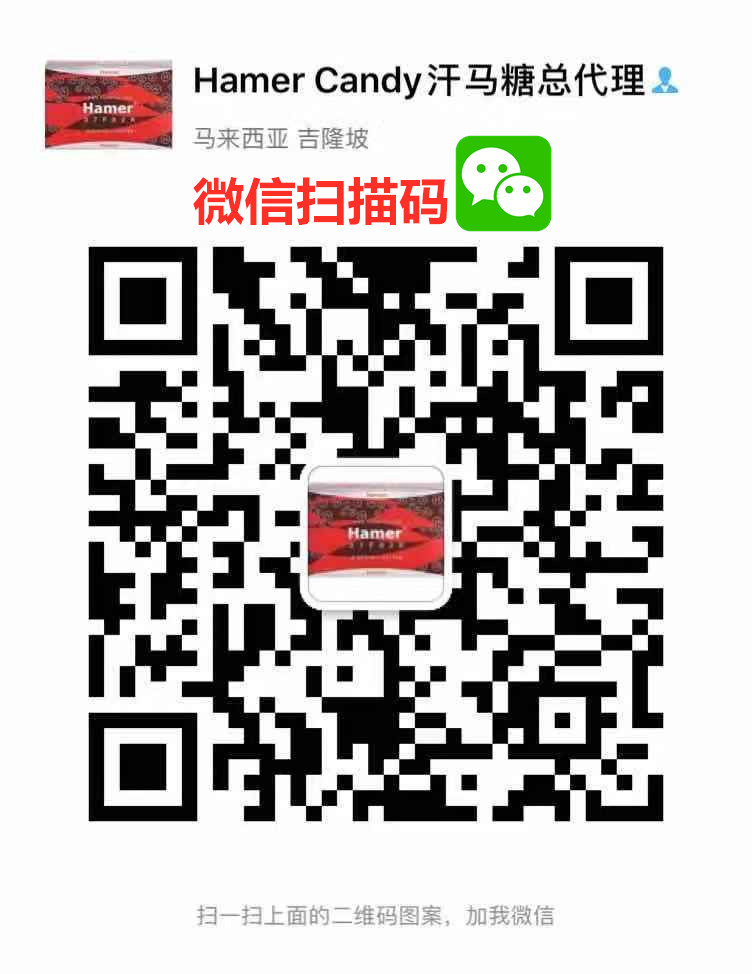 WHATSAPP FOR ORDER :
CLICK HERE 012-6262122